Bath Half 2022
Run in the 2022 Bath Half, and support local people with sight loss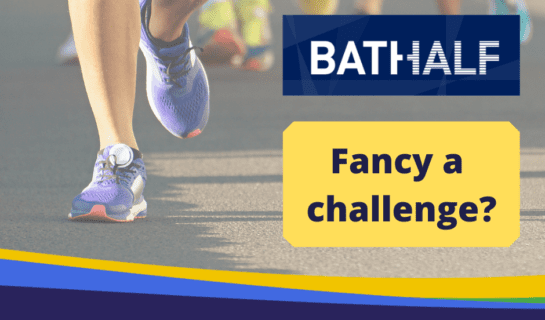 The Bath Half
The Bath Half Marathon is one of the most popular challenges in the South West.  A favourite of both runners and charities, if you take part you'll be running one of the best courses, with an incredible atmosphere.
The course is in the beautiful World Heritage city centre, and is a fast and flat course suitable for all abilities.  If you would like to run with a guide runner or guide dog, please do get in touch and we can arrange this.
And for charities – the event raises over £2million every year.
The 2022 event
The event is on 16th October 2022.
The event will be 'covid-friendly' with extra space at the start and finish lines to help people socially-distance.
General entries for the race have sold out in record time.  But we still have a few places available if you would like to run.
How we will support you
We will send you our great fundraising pack, including fundraising ideas and a t-shirt.
We are a local fundraising team and always happy to chat through your fundraising ideas, and share advice.
Want a place?
If you would like to run for us, please email jen.hall@sightsupportwest.org.uk or call our office.
There is a registration fee of £46.50.  And we ask you to aim to raise at least £200.
Places are now only available through charities, so we will need to send you a special invitation to complete your registration.  If you would like help completing the registration, please just mention that when you contact us.