New Sight Loss Support Centre opens in Salisbury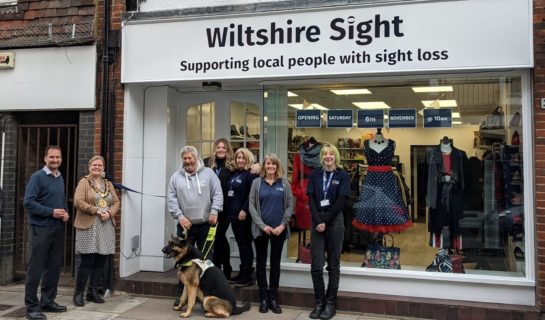 Wiltshire Sight are delighted to announce the opening of their new Salisbury Hub, which combines our very first charity shop with a services and resource centre for client appointments and drop in consultations. On Saturday 6th November, the Mayor of Salisbury officially opened the premises, combining our very first charity shop with a services and resource centre for clients.
The design of our stunning, fresh look shop has accessibility at its core, particularly for people with sight loss.  It has wide pathways and spacing on the shop floor, high contrast colours for the till area and doorframes, and an accessible till system designed with visually impaired volunteers in mind.
After a couple of very busy set-up weeks, we had a fantastic opening day. We had three new clients seeking support within the first hour. The shop was busy all day, taking almost £1,300 by closing time, way beyond our expectations.  We had visits from the Wiltshire Hearing and Vision Team, staff from the Salisbury General Hospital Eye Clinic, Salisbury Talking News, and representatives from several of our local generous funders.
In addition to traditional charity retail items and new goods, the store is also selling some of the most commonly used daily living aids and large print diaries, calendars and games.  Our consultation room and resource centre is situated on the ground floor of the building and is a safe and confidential space for appointments.  The resource centre will be stocked with a full range of magnifiers, task lighting, talking clocks and watches and other items.  The shop will be open seven days a week, but if you would like to visit the resource centre, give us a call and make an appointment to meet Alison, our South Wiltshire Community Sight Loss Advisor.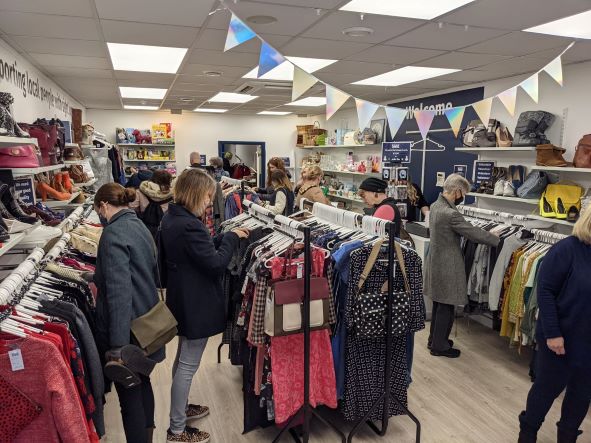 We would like to take the opportunity to thank all those who were able to donate items to us to sell in store, during the run up to opening. Now we are open, please do continue to bring in donations – either direct to the Salisbury shop or to our Devizes office. If you have any good quality clothing or homeware items, we would love them.
Your donated items have filled the shop floor and we are selling a wide range of quality items including ladies' and mens' clothing and accessories, children's clothing and toys, homewares, puzzles and games.
The shop is also selling a range of new goods, including Christmas cards, scarves, and ladies' handbags, all great for gifting at this time of year.
In store, you can expect to be greeted by our full-time shop manager, Becca, or our part time supervisor, Vicky.  The resource centre also has its very own rear entrance which backs onto the Brown Street Public Car Park in Salisbury's centre for easy accessibility, avoiding the high street shop entrance.  To make an appointment to see Alison, please call us on 01380 723682.
Please do come and visit us!  The shop is located at 23 Catherine Street, Salisbury, SP1 2DQ.
More news articles
Showdown is here! Showdown is a game designed for people with sight loss by Joe Lewis in the 1960's. It is a fast-paced exciting game, similar to air hockey and...
Sight Support and Wiltshire Sight are very pleased to announce that starting in 2022 and proudly sponsored by Optelec UK, we will be holding four large exhibition events every year. We hope that these will become the annual 'not to be missed' events for all those living with sight loss in the region.
Read previous article about 'Announcing 'Eye Can' Exhibitions'