Showdown is coming to the UK!
British Blind Sport are looking to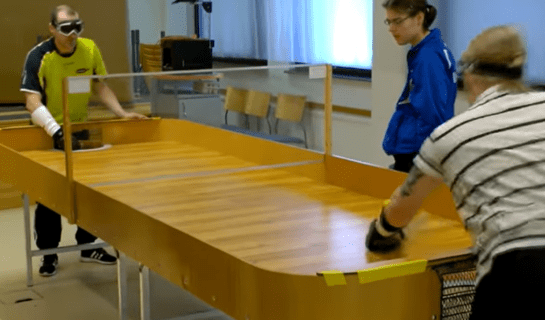 Showdown is here!
Showdown is a game designed for people with sight loss by Joe Lewis in the 1960's. It is a fast-paced exciting game, similar to air hockey and table tennis. It is played in more than 20 countries across Europe and is also played in Africa, Asia, North and South America and now it has landed here in the UK.
The University of Birmingham is set to hold the International Blind Sport Federation (IBSA) 2023 World Games next August. Showdown, is one of the 11 games that competitors from over 70 nations will be competing in.
British Blind Sport are working to develop the game in our area and across the country. They are looking for potential players and volunteers to make Showdown a more commonly played game that blind and partially sighted people can enjoy.
So how is Showdown played?
The game is played on a specially designed rectangular table by two players who stand at each end. There is a screen across the middle and goal pockets in front of each player. Players use flat, paddle-type bats and a ball that makes a sound to denote where it is.
The aim of the game is to bat the ball off the side wall, along the table, under the centre screen, and into the opponent's goal.
Each player serves two times in a row.
A player scores two points for a goal and one point when their opponent hits the ball into the screen, off the table, touches the ball with anything but the bat, or traps or stops the ball for more than 2 seconds making the ball inaudible for the opponent.
One point is also awarded to the opponent if a player touches his or her eye protection without first asking permission.
Matches are usually played in 3 sets, best of 2 wins.
The first player to reach 11 points, leading by 2 or more points wins the set.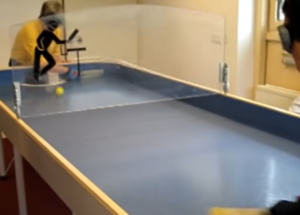 Spectators must be quiet during play, so as not to interfere with the players ability to hear the ball. Cheering is however allowed after the referee has whistled!
All players must wear eye masks for protection and to ensure they can't see the ball making it a level playing field for all.
See this Youtube video to get a brief overview of the game (opens in a new window).
If you would like to get involved
Contact our Senior Sight Loss Advisor Marc Gulwell at  marc.gulwell@sightsupportwest.org.uk or call him on 0117 322 4885.
For more information
Follow this link to find out more about the IBSA Games 2023 being held at the University of Birmingham .
To read more about the game try this Wikipedia Article about Showdown article.
More news articles