Play our lottery
For every £1 spent, we receive 50p towards our services.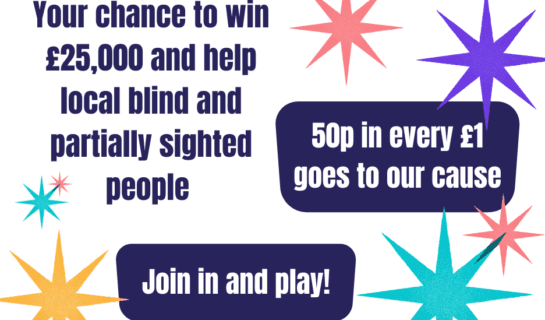 Charity lotteries are a popular way to support the causes you care about!  For £1 a week, you have the chance of winning £25,000 EVERY week.  And we get 50p in every £1, which we spend on our services.
To help save time and costs, we have one lottery for Sight Support West of England.  If you live in Wiltshire, proceeds from your lottery subscription will be spent in Wiltshire.  And if you live in Gloucestershire, they will be spent on our services in Gloucestershire.  If you want to know more about how we spend your donations, please contact us
Each week you have the opportunity to win one of 37 cash prizes: 1st Prize: £25,000, 2nd Prize: £1,000 and 35 guaranteed Runner-up Prizes: 5 x £20, 10 x £10 and 20 x £5
How to enter
The easiest way to enter is online.  If you prefer, you can also call to enter or request a paper form.
How do I know if I'm a winner?
All our lucky winners will be contacted directly after the draw. Where possible, we will notify you by email, with funds deposited directly into your bank account. If we don't have your email address, you will be notified by post.
1st and 2nd prize winners will be notified by telephone with confirmation and cheque sent by post.
It is important to keep your details up to date so we know where to send any winnings.
If you think you might have missed a win, you can check results online.
Lottery terms and conditions
You must be 18 or over and live in the U.K. to play or claim a prize.
Sight Support West of England's lottery is run by Affinity Lottery. Read the full terms and conditions.
Responsible Gambling
Are you gambling more than you really want to? If you or a family member feel that you are experiencing problems with gambling, you can seek advice and support from trained counsellors at GambleAware.  Call the National Gambling Helpline on 0808 8020 133 or visit their website www.gambleaware.co.uk.
If you would like to be excluded from future raffles and lotteries please just let us know by email or telephone.
---
The promoter of this Affinity Lottery is Sight Support West of England, St Lucy's Sight Centre, The Beeches, Bath Road, Devizes, Wiltshire, SN10 2AT.  Sight Support West of England is licensed and regulated in Great Britain by Wiltshire Council under account number LN/000014583.
This website is provided by our External Lottery Manager, Woods Group Limited trading as Woods Valldata. Woods Group Limited is licenced and regulated in Great Britain by the Gambling Commission under account number 3586.