Information & advice
We are here to help anyone who is living with, or has been newly diagnosed with sight loss.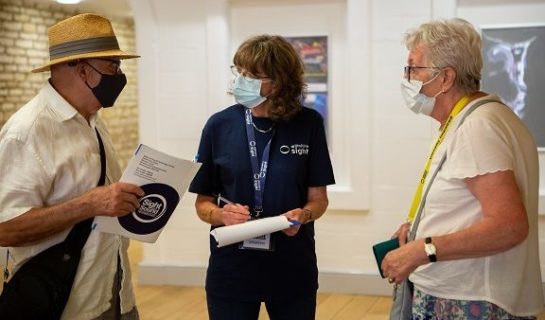 You can ask us questions big or small.  If you feel lonely, depressed or isolated by your sight loss we are here to provide emotional support.  We can also give you practical help, tips and guidance about all areas of your daily life.  If you agree it will help you, we can also recommend local support groups, or make a referral for further help.
You might have a one-off query, or we can take you through a full Sight Loss Assessment.  In an assessment, we will look at all areas of your life and help you develop an action plan to improve daily living.  These areas include:
How you manage at home
Getting out and about
Improving your health and wellbeing
Getting into employment or volunteering
Some of our team are visually impaired, and all of them have lots of experience supporting blind and partially sighted people.  So that you can visit us locally, we hold community hubs across the West of England.
We also run group sessions to help people learn more about living with their sight loss – take a look at our 'Moving Forward with Sight Loss'  course.
Moving Forward with Sight Loss
If you'd like to speak to an advisor, make an appointment, join one of our courses or find out about sessions local to you, please call us.
Our contact numbers are:  0117 322 4885 (Bristol, BaNES and South Glos), 01242 211 170 (Gloucestershire) or 01380 723 682 (Wiltshire).
You are welcome to visit our fully equipped resource centres in Cheltenham, Bristol, Devizes, Thornbury and Salisbury.  In our centres, you can try a wide range of assistive technology, lighting, magnifiers and daily living aids.  Or, you can take part in a training course, for example:
How to make the best use of your remaining sight
How to use technology to support daily living
If you or someone you know is visually impaired, we're here to help.