Work for us
Interested in joining us? We have a small team of dedicated staff, working at home, at one of our offices in Devizes and Bristol, in our shops, and out in the community.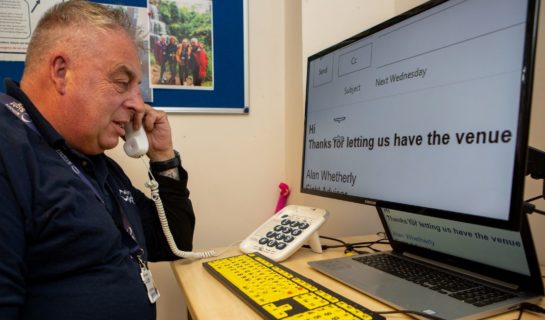 Community Sight Loss Adviser (Mid Wiltshire)
Location:  Devizes/Home-based with travel around  mid-Wiltshire
Salary £20,400 pro rata.  This is a part-time role, 3 days per week.  Full time would be considered however for the right candidate.
We are looking for an enthusiastic and dedicated Community Sight Loss Adviser to take a lead role in providing our Information, Advice and Guidance Service for people with sight loss in in Mid Wiltshire (covering Devizes, Calne, Marlborough, Pewsey & Westbury).
The role will work 1-1 with clients, assessing their needs and preparing appropriate action plans to ensure that they are accessing support, equipment and training to help them adjust to their sight loss. Working alongside the Head of Services, the postholder will plan and organise community hubs in key locations in the area to ensure maximum accessibility of the service.  This is an exciting opportunity for a proactive person with strong people skills to make a real difference to the lives of people living with sight loss in the area.
Full details can be found in the job description linked here:
Community Sight Loss Adviser Mid Wilts Oct21 FINAL (002) (DOCX, 88 KB)
Prior experience of working with sight loss is not required, and comprehensive training will be provided.  If you would like to know more about the role before you apply, informal confidential discussions prior to application are welcome; please call 01380 723682 to arrange an appointment.
To apply for this post please send a CV and a covering letter outlining your suitability for the post to info@wiltshiresight.org.   Applications without a cover letter will not be considered.
Closing Date:  Monday 15th November midday .
Interviews will be held in Devizes on Monday 22nd November.
Wiltshire Sight is committed to quality, equality and valuing diversity, and welcome applications from all backgrounds. As a sight loss charity, we particularly encourage applicants who are visually impaired to apply.
Thank you for your interest.  Unfortunately we do not have any other vacant paid roles at the moment.  Please check again regularly.
In the meantime, please consider our volunteer vacancies.  We have roles to fit all skills, and can help you to get great work experience for future paid roles.