Our Impact
Read about some of our achievements over the past year!
One of our aims when we formed the partnership between Wiltshire Sight and Sight Support in 2018, was to ensure that our services had real impact and resulted in positive changes to the lives of people living with sight loss.  As well as developing high quality services, we needed to find ways to measure the outcomes of our work.  This would also ensure people had a way to provide feedback to help us continually improve services.
We are really proud of our work.  This report captures feedback from our clients alongside some of our achievements.  We hope it shows why our services are valued so much – by us, our clients and by the wider sector.
We hope to produce the first Impact Report for Insight Gloucestershire at the end of 2024.
If you would prefer a text-only version of the report, or to download a PDF file, you can find links below to do this.  You can also find a link to our previous year's impact report.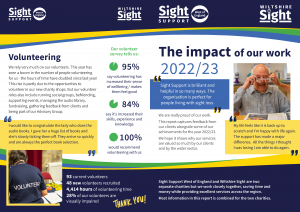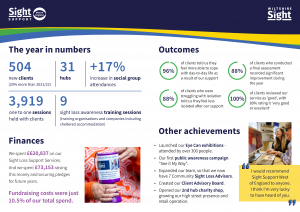 Download the 2022 / 2023 Impact Report as a PDF
Read the 2022 / 2023 Impact Report as a Word Document
Download the 2022 / 2023 Wiltshire Sight focus Impact Report as a PDF
Read the 2022 / 2023 Wiltshire Sight focus Impact Report as a Word Document
Previous years' reports can also be found below:
Read the 2021 / 2022 Impact Report as a Word Document
Download the 2021 / 2022 Impact Report as a PDF file