Making Technology Work for You – Devices that can help
Practically every new phone, tablet or computer has built-in accessibility functions which can make a real difference to people with sight loss. Read this brief summary of some of the devices which can help.
Communication and technology

tags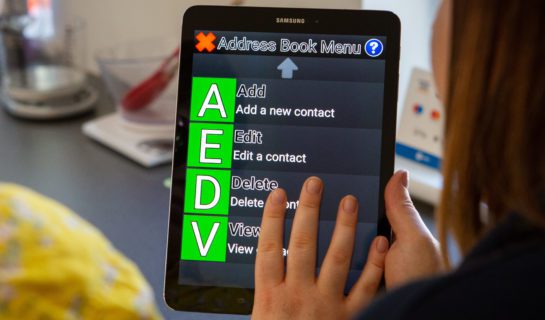 Sight loss doesn't mean you lose connection to the world, in fact in many ways it's quite the opposite.
Embracing the wide range of technology that is available can mean you are more connected than ever. Practically every new phone, tablet, computer or software released these days has built-in accessibility functions which can make a real difference to those of us who are visually-impaired. Below you will find a brief summary of some of the devices which can help. Our team of Sight Loss Advisors are trained to help you find the right piece of technology to suit your needs, or to help you get the most out of any technology you already have.
Computing Software and Mobile Phones
Microsoft have introduced an Ease of Access Centre, Apple use a whole range of accessibility tools including VoiceOver and Zoom, Android phones include TalkBack and Magnification Gestures along with a range of other features.
No matter what system you use, they are all either accessible or can be made accessible. Additional software can be added to computers such as Supernova, ZoomText or Jaws. These are all software solutions that can be installed on to computers to give users magnification and speech solutions.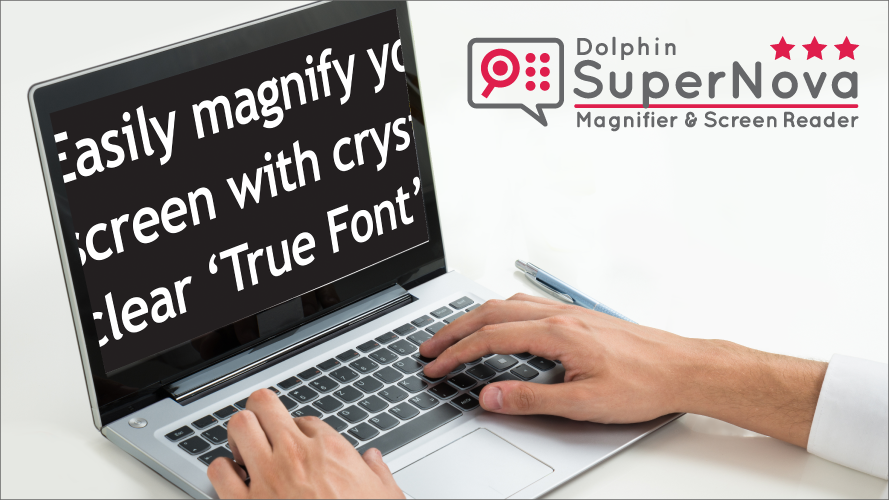 Hi-Tech Reading Aids
With optical magnification, you can only increase the size of the print you are reading, the text does not become clearer. With the addition of a daylight bulb in the magnifier, this can be improved but it doesn't give you the clarity that a CCTV or portable electronic magnifier can. CCTVs and Portable Electronic Magnifiers are designed to give users changeable magnification levels, ability to have lines or windows on screen and most importantly in many cases, high contrast colour options. For many these high contrast colour options can make the difference from not being able to read at all, to reading with much more simplicity.
Text to Speech Readers
A Text to Speech Reader is just that, the device will take a photograph of any printed text and will read it back to you within seconds. There are a wide range of Text to Speech Readers available that range from stand-alone units, to systems that incorporate Hi-Tech magnification systems (portable and desktop) and even cameras that will attach to a pair of glasses and read back discreetly in your ear.
Smart Speakers
Amazon Alexa and all of the other smart speakers that have come to market in recent years such as Google Home and the Apple Home have revolutionized the way many homes operate. A smart speaker can make a real difference. You can use your voice to make a phone call, use it to change the TV channel, turn the heating on and so much more.
Apps /Smart Devices
Apps such as SeeingAI and Envision can take pictures and read text and describe scenery to you, Soundscape can help you to navigate and there are Apps such as Trainline and Moovit to help you find out when trains and buses are running.
Be My Eyes can connect you with a sighted volunteer who is able to describe what something is to you using the device's camera.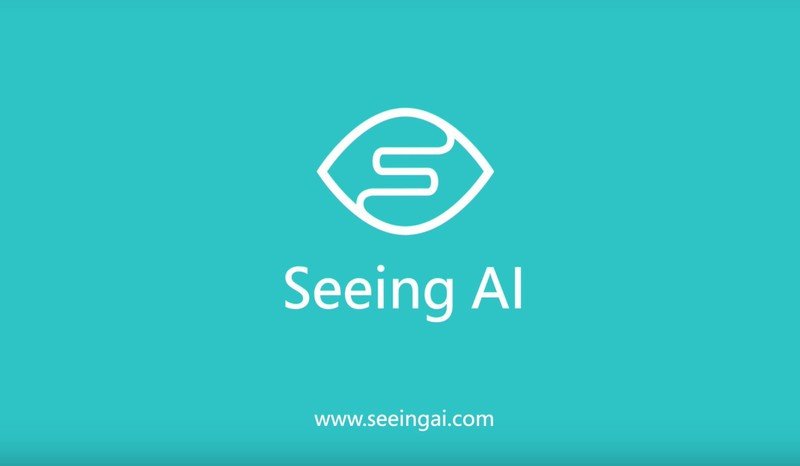 (currently only available on IOS/Apple devices)
If you'd like to find out more, or try out some demonstration equipment, do call us to make an appointment.