Technology in Your Pocket
So many of us have a smart phone or tablet sat on the table next to us or in our pockets, but are we all making the most of them? There are a few simple things you can do to make your device work for you.
Communication and technology

tags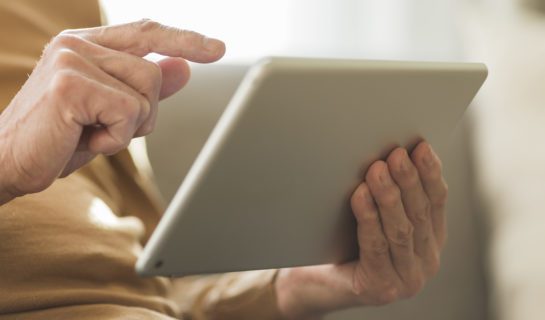 So many of us these days have a smart phone or tablet sat on the table next to us or in our pockets, but are we all making the most of them?  These  devices all have features built in and Apps that are downloadable, that can not only make them easier to see but can assist with accessing documents and reading printed mail. Just a simple thing like changing the settings on your phone to high contrast can make a big difference. Here are a few examples of the simple things you can do to make your phone or tablet work for you:
Text-to-speech
Nearly all phones and tablets now have built-in text to speech readers – on Apple devices this is called 'Voice Over', and on Android devices it is called 'Talk Back'. These features enable everything on the screen to be read out loud to you. The first time you enable this feature on your phone or tablet you will be offered a tutorial to help you understand how it works and what it can do.
Magnification or Zoom
Every smart device has the ability to magnify what appears on screen to a suitable size using your finger tips. So, if any of the print is too small to read, you can make it bigger with a few taps on the screen.
Larger Text
If the standard print is too small, why not try making it bigger? Within the display or accessibility options on your device, there is an option to increase the standard font size. For some people, this simple fix can be enough to make the phone screen readable again.
Voice Assistants
All smart devices now have built in Voice Assistants. These assistants can do anything from making a call to giving you directions. The best thing about the voice assistant is that you do not even need to pick up your device to use it, you can talk at your phone and ask it to send a text message or call a number in your contacts.
A great example of this is OK Google, a piece of software that allows you to control your device using your voice, simply by saying 'OK Google…what is the weather going to be like today?'
Text to Speech Apps
Did you know you could have your letters read to you using your smart device? There are many Apps which use your device's camera to take a photo of printed documents and then read it back to you in a clear synthetic voice. These Apps can be downloaded free and are brilliant for anyone who struggles to read print.
Document Transcription
If you have an electronic document that you are struggling to read, the website RoboBraille can instantly transcribe the document into a format that is suitable to for you.
If you'd like guidance on how to adjust your phone or device settings or need some help using a new application, our team of Sight Loss Advisors are ready to help.