Are We There Yet?  Holidaying With Sight Loss
Health & Wellbeing

tags

Moving around

tags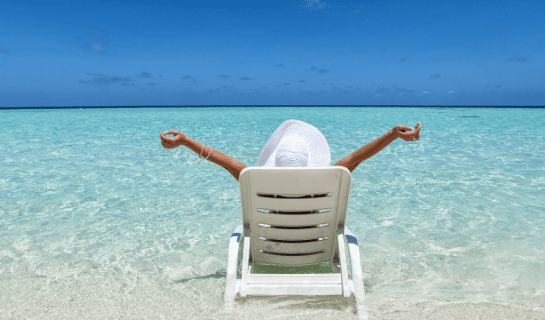 Having a holiday can be one of life's greatest pleasures. But what about when you are living with sight loss? Are you still able to enjoy a diverse range of holidays and take part in all the experiences holidaying has to offer? We think so!
Specialist Holidays
One way to access holidays is to book with a specialist holiday company. These companies offer holidays that are specifically tailored to meet the needs of people living with sight loss. This includes offering extra support, such as sighted guides, and adjustments to activities or accommodation.
We spoke to Jenny and Steve, who have had many of these types of holidays. They told us that using specialist companies had proved to be a liberating experience. They have had amazing experiences, including climbing Sydney Harbour Bridge, cycling across Holland, white water rafting, and even an exclusive hands on experience of a Michelangelo statue in Russia (gloves were mandatory of course!).
"Specialist companies have given myself and my partner memories and experiences to last the rest of our lives."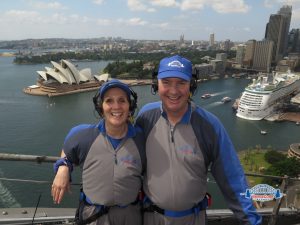 Specialist themed breaks are also popular and can include wine tasting, poetry, learning a language or local history. If you are feeling adventurous the Calvert Trust provide adapted outdoor activities including abseiling, climbing, cycling and an amazing zipwire to mention just a few, or if you enjoy hiking you could try Milton Mountaineers, a charity who meet around the UK to climb hills or mountains. Or perhaps you want a relaxing hotel break. The Windermere Manor Hotel offers accessible hospitality, with hotel staff trained to assist people with sight loss.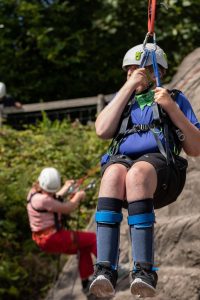 If you need more support, some residential homes caring for blind and partially sighted people offer short term respite care in beautiful settings.
There are specialist companies for overseas travel too. TravelEyes, (reopening later this year) offer a range of global destinations and experiences. Their group holidays pair sighted guides with people with sight loss. The guides are on a rota, so this creates a great opportunity to meet new people. Other specialist holiday organisations include Seable, Responsible Travel, and Limitless Travel.
There is a great RNIB article detailing specialist holiday companies.  You can find it on their website at rnib.org.uk/Information-Everyday-Living-Home-And-Leisure/Holidays
Mainstream Holidays
Mainstream holidays can also be accessible with planning.  Some considerations are:
Sighted guiding support can transform a holiday. There are organisations that can help you find a volunteer (org.uk) or a paid guide/travel companion (try universalaunts.co.uk).
Assistance is available at train stations and airports, but these services must be booked in advance.
Find out in advance about any trips or activities. Print out or save information to your mobile. Plan routes for getting to and from where you will be going.
Do you have special requirements, e.g. large print menus? Or a hotel orientation? Most tour operators or hotels can accommodate requests if you let them know in advance.
Think about any equipment you regularly use at home that you could easily take with you, like talking clocks or liquid level indicators.
Small details can make a big difference, and our wonderful rehabilitation officers have come up with a list of 15 key travel tips www.sightsupportwest.org.uk/resources/tips-and-tricks-for-holidaying/ Please contact us if you would like a copy to be posted or emailed to you.
Finances
If you have limited funds, it may be worth checking whether a grant towards the cost of a holiday is available.
For young people the Family Fund may be able to help –familyfund.co.uk. For people of all ages, it's worth checking the disability grants website (disability-grants.org/holiday-grants.html). Additionally, RNIB may be able to help you find funding, their helpline number is 0303 123 9999.
(Please note companies and funders listed are for information and not endorsed or supported by us.)
This is just an overview of some of the things to think about when considering a holiday and we encourage you to do your own research. If you have any more tips, we would love to hear from you.