Getting Out and About
The fourth session from our course of interactive and informative Zoom meetings aimed at helping you address the issues and challenges resulting from sight loss.
21 Feb 2022 4:00 pm to 5:00pm

Information and advice

Moving Forward with Sight Loss
Getting Out and About
Monday 21st February 2022 4:00pm - 5:00pm
Via Zoom
This is the fourth of our Zoom sessions from our Moving Forward with Sight Loss course.  You can attend either the sessions that are of interest to you or all of our sessions from this course.
Whether it is cane, canine or simply learning some little life hacks to aid your mobility, you will find out about it all during this session. We will also discuss all of the travel apps and concessions available to you.
If you would like any further information or would like to book your place on the course, please call us on 0117 322 4885 or email support@sightsupportwest.org.uk
More events like this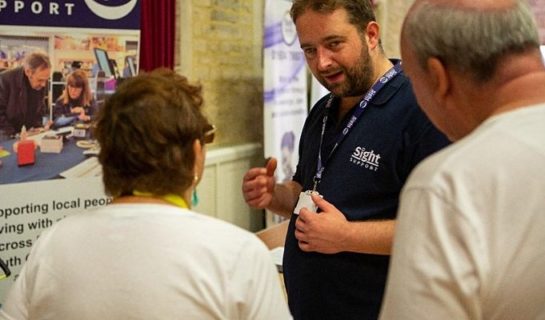 16 Mar 2022 10:00 am to 4:30pm
Our first Eye Can exhibition is being held on the 16th March 2022, 10.00 am - 16.30 pm, at The Memorial Stadium, Bristol. It will bring you many of the UK's leading organisations who offer support to blind and partially sighted people.
8 Jan 2022 - 11 Jun 2022 11:00 am to 1:00pm
A friendly volunteer led social group will take place at Boswells Cafe in The Galleries, Broadmead on the second Saturday of each month
9 Apr 2022 11:00 am to 1:00pm
A friendly volunteer led social group will take place at Boswells Cafe in The Galleries, Broadmead on the second Saturday of each month