Making Exercise Accessible
Health & Wellbeing

tags

Moving around

tags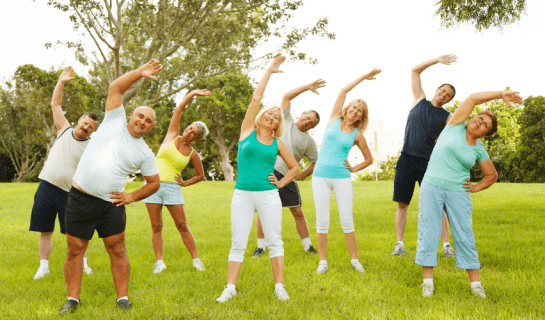 A lack of accessibility in health and fitness can put off even the most determined amongst us from taking part in activities.  But staying fit and well is vital to keep you mobile and healthy, and  really important for your mental wellbeing. If it would help you to get out and about, you can arrange a quick refresh with your local Community Sight Loss Advisor about safely navigating outside the home. Some activities may sound daunting at first, but there is support out there to help.
In our area there are visually impaired runners who participate in local park runs and clubs with fully trained guide runners. You can find running clubs via Facebook, by doing an internet search for Parkrun, or by contacting a local running club. ParkRuns are volunteer-led, but many of them have trained guide runners to help people take part. You can find a guide runner on RunTogether's website, or by contacting British Blind Sport.
We recently spoke to Jeff who took up running himself in May 2021 by joining the VI Runners Bristol group and asked what motivated him to start running.
"At 61 I just felt it was time to change a few things in my life, lose some weight and feel more energised and alive.  I knew a few people in the visually impaired community who had taken up running and were running every Wednesday evening with the VI Runners Bristol, and this is where my journey began.

At first, I could only walk/run (45 seconds run, 2 minute walk).  I started at 14 stone 8 pounds and by May 2022 I was down to 11 stone 6 pounds, and I have maintained that weight. I entered my first 5k race in August 2021 and it was quite a challenge. Since then, I have done many 5k Saturday morning park runs, a number of 10k races, and finally in September 2022 I took part in the Great North Run Half Marathon, and I'm still running. I've lost the weight, I am energised, and I am very much alive."
Of course, running isn't for everyone. There are other options for getting fit. If you are thinking of joining a gym, we recommend you book yourself a trainer. This can really help you get familiar with the gym and equipment. If it would help, please do ask your gym to get in touch with us to discuss information or training about how to be accessible. We have been working with The Ramblers to ensure that some routes and groups are VI-friendly. We can also carry out the same training with your local walking group if that would help.

There are now a range of aerobic, yoga or fitness classes accessible with audio description.  They are at some community centres, gyms, or online.  We have produced a series of audio described exercises that you can do at home which can be found on our website in the Knowledge Hub follow this link: Knowledge Hub – Sight Support West of England.
We know of clients across the region taking part in cricket, bowls, tennis and more.  To find out more or if you would like advice on what could make the activity you love more accessible to you, please get in touch.