Sight Loss Advice is returning to Stillhouse Lane, Bedminster.
Sight loss advice services will be available once a month at the Guide Dog South West Regional Centre, Stillhouse Lane, Bedminster.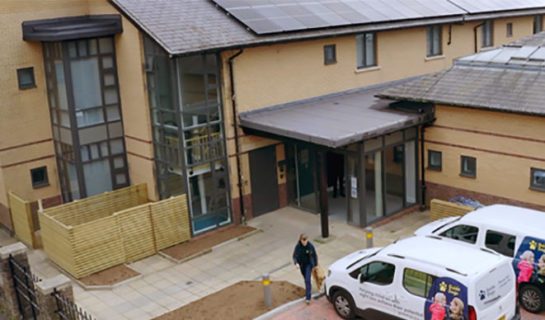 Sight Support West of England is delighted to announce that from August we will be holding regular information, advice and guidance sessions on the 1st Friday of every month, in the Guide Dogs South West Regional Centre in Bedminster. Built in 1993 for the Bristol Royal Society for the Blind, the centre was the first building in the country to be designed with visually impaired people in mind and has continued to support people with a visual impairment ever since, subsequently being owned by RNIB and now Guide Dogs (who have kindly offered us their meeting room).
The new Sight Loss Advice Hub will run from 10am to 1pm and a Sight Loss Advisor will be on hand to offer support to people who are blind or partially sighted. At the session, you will receive information and advice on how to live with sight loss, remain independent and get the most out of life. There will be resources and equipment to help with daily living tasks on display. Additionally, technology support will be available from our experienced team of volunteers.
The drop-in session will also have a coffee morning running at the same time, so you can pop by, get information on anything sight loss related, obtain help with using your technology and have a cuppa and chat with others who are living with sight loss.
Sight Loss Advice Team Manager Marc Gulwell said:
"We are delighted to be bringing sight loss advice services back to their historical home in Bristol. People from across the city had used the facility regularly and we are aware that it has been missed. We hope the local community will welcome the chance to join us and help make this new Sight Loss Community Hub a great success."
Appointments are available if you would like to book in advance to see a Sight Loss Advisor.  Contact us on 0117 322 4885 or at info@sightsupportwest.org.uk
---
Sight Loss Advice Hub details:
1st Friday of every month from August onwards. 10am to 1pm.  Our first Hub is on Friday the 5th of August.
At Guide Dogs South West Regional Centre, 10 Stillhouse Lane, Bristol, BS3 4EB
More news articles
Talking about wills and legacies can be a difficult subject.  But this Remember a Charity week, we wanted to ask 'Will You consider leaving a gift to Sight Support West of England in your will?' We have a partnership with Kwil which will allow you to write a will for free.