Reading Independently
Communication and technology

tags

Managing at home

tags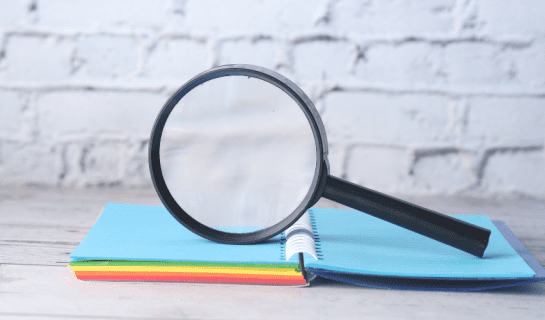 Struggling to read can be one of the biggest impacts of sight loss.  It can be frustrating when it is difficult to read a book, a recipe, your post or your phone screen.  But there are lots of tools to help you read independently again.
Magnification
The first step is to consider optical magnifiers.  These come in a variety of strengths and styles, including ones that have built in lights or stands.
Some people have several different magnifiers for different purposes.  Perhaps one that fits in your pocket or your bag for when you're out and about.  And one at home that can sit on your chest or on the tabletop, which lets you hold a book and turn the pages easily.
Magnifiers are simple to use, with a broad range to suit many different needs.  They all do a good job at helping people to read.  But, the stronger the lens of a magnifier, the smaller the field of view becomes.  This means that whilst the print is readable, you might only see a word or a couple of letters at a time.  This can be frustrating.
If you need very strong magnification, we recommend using electronic magnification.  These are devices which use a camera to look at the print, which is then viewed on a screen in very high contrast.  These machines instantly turn the text into crisp black on white or black on yellow – or any other colour combination that suits your needs.  A large screen means you can view more of the reading material at any one time.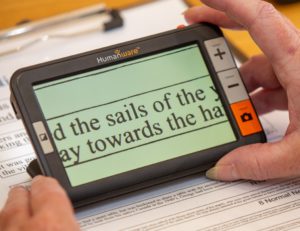 Text to speech
If magnification isn't enough, then consider using a text to speech reader.  These are suitable for people with severe sight loss, or any condition which leaves you without useful vision.   These machines take an image of the text, and then read it aloud.  The voice is automated, clear and easy to understand.  There are simple buttons to pause, repeat text or adjust the speed.  Some readers also have an electronic magnifier.
We know that this equipment can make a huge difference to daily life, but it can be very expensive.  Some suppliers offer payment plans or installments.  And your Sight Loss Advisor can sometimes recommend organisations to apply to for help with funding – although sadly Sight Support West of England nor Wiltshire Sight can offer grants.  We do occasionally have used equipment available in return for a suggested donation.  Please do visit our resource centres to try out a range of equipment before buying the one that suits you best.
Using a smart phone or tablet for help reading independently
Smart phones or tablet computers can provide a way to read independently.  There are applications available for both Android and Apple smartphones that use the phone camera to scan, electronically magnify, clean up text and even read text aloud. These apps are usually free. We would be happy to advise on which app might best meet your needs, so do get in touch.
If you don't yet use a smartphone or tablet, then please contact us to arrange to learn more.  We have a special training course that we can take you through in your own time, teaching over the telephone or in person.  We run through all the basics of using a smart phone or tablet computer.  We will help you get used to using the magnification or text to speech apps.  You'll learn to make and receive video calls and use everyday apps, such as those used for banking.  In some circumstances, we can lend you a tablet to learn with, so that you can see if this is something that will help you.
No matter what level of sight you have, there are ways in which we can help you to remain an independent reader.
If you would like to find out more about any of these solutions, please contact your local Sight Loss Advisor.