About us
Providing support for Blind and Partially-Sighted people across Wiltshire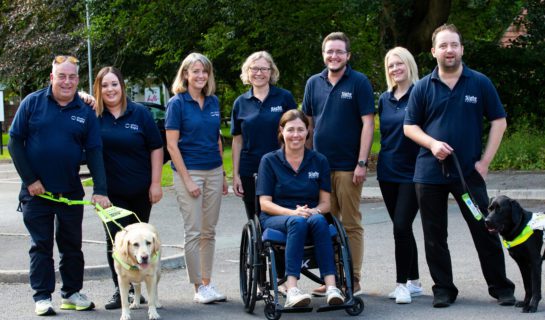 Wiltshire Sight was set up in 1919 as Wiltshire Blind Association.  It was founded to support Blind and Partially-Sighted people, and based in St John Street, Devizes.
We changed our name to Wiltshire Sight in September 2014, and moved into our new premises at St Lucy's Centre, Bath Road, Devizes later that year.
We work to make sure people living with sight loss across the county:
Can access timely and appropriate support services.
Are empowered to lead active and fulfilled lives.
Partnership with Sight Support West of England
In 2018 we began our partnership with Sight Support West of England.  Together, we now work to ensure consistent and high-quality services are available across the region.
Wiltshire Sight remains an independent charity serving the people of Wiltshire and Swindon.  We have our own Trustees, and if you donate to Wiltshire Sight, your money will be spent in Wiltshire.  But working together means we benefit from reduced central costs and can offer a much wider range of services.
Together with Sight Support West of England, and our other close partner Insight Gloucestershire, we also aim to increase awareness of the importance of eye health and the prevention of sight loss.  We do this through the provision of training and awareness-raising activities with communities, service organisations and the general public.
Finally, we work to remove barriers and address inequalities for people living with sight loss.
Why we exist
Did you know that every 6 minutes someone in the UK is told they are losing their sight? And current figures suggest that by 2030, 1 in 25 people living in the UK will be sight impaired.   In Wiltshire and Swindon, we estimate over 25,000 people are currently living with sight loss.
Losing your sight can be devastating. It can restrict social interaction, cause isolation and remove your independence.  This can then lead to low self-esteem, lack of self-confidence or depression.
And so that is why we exist.
We want people with visual impairments to be fully supported to live their lives independently and to the full. Whether you have been blind since birth or are just experiencing the onset of a visual impairment, we are here to help.
We offer a range of services, tailored to the specific needs of the individual.  Please contact us to find out more about how we could help.
---