Sight Support's first charity shop opens!
We can't wait to welcome our supporters and new customers into our wonderful new shop in Thornbury this summer!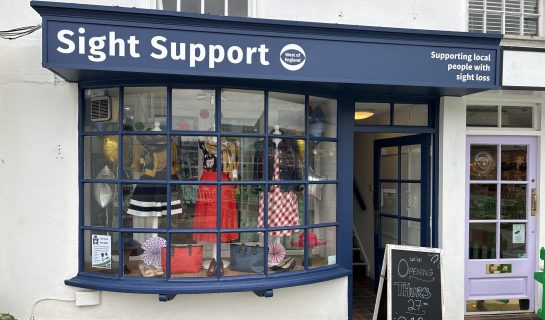 We are delighted to announce that on the 27th of July our Thornbury Hub opened! The hub combines our very first Sight Support West of England charity shop with a services and resource centre. The Hub is in the centre of Thornbury at 18 High Street, BS35 2AH.
Our new charity shop is open Monday to Saturday, 9 am – 5 pm and is full of high quality women's clothing and accessories, books, homeware and bric-a-brac for purchase. It has been made accessible for people with sight loss having wide pathways, high contrast colours for the till area and door frames, and a till system which can be used by visually-impaired volunteers. The shop will raise income to fund our services across the region.
Our resource centre is due to open mid-September this year, but from August, the room is available for sight loss advice pre-booked appointments every Monday, this is in place of our Thornbury Hub that took place at the Library. The room is situated on the first floor of the building and it provides a safe and confidential space, we will be installing a stairlift to help improve access, but appointments can take place at the Library if needed.
Once open, the resource centre will have lots of technology and daily living equipment to try. There will be lighting, magnification tools, kitchen equipment, reading aids and much more, as well as expert advice on all things related to sight loss. Whether you are newly diagnosed, or wondering about equipment or advice, we can help.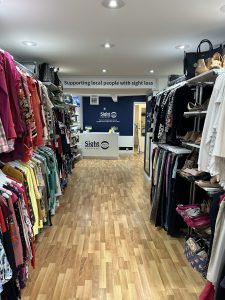 We are very excited about our first Sight Support charity shop and are incredibly grateful to everyone who has helped us make this happen – our supporters, our volunteers and those who have generously donated such high quality items.  As a small local charity, we rely on your support, so please keep your donations coming – there is a parking bay right outside, so it is easy to drop donation bags off.
If you or anyone you know is interested in volunteering, we'd love to hear from you,
If you wish to make an appointment with your Community Sight Loss Advisor, Charlie, call us on 0117 322 4885.
More news articles
In partnership with British Blind Sport, we are excited to announce an upcoming Have A Go Day. These days give anyone blind or partially sighted the chance to try different sports that are specially adapted to make them accessible. We hope to see you there on the 9th of September.
Read next article about 'Bristol Have A Go Day coming soon!'