Announcing our new Tech Discovery Events
Tech Discovery Events will take place with trained volunteers at each event who will help you get started with technology, have a go with everyday gadgets and get the most out of the devices you own.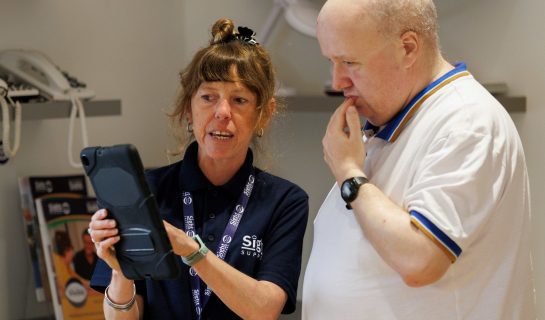 We are thrilled to introduce our Digital Inclusion Service designed to enable individuals living with sight loss who may be struggling with technology gain the tools and knowledge needed to thrive in today's digital world.
At Sight Support West of England, we believe that technology should be accessible to everyone, and our new initiative aims to bridge the digital divide for people with visual impairments who are not confident in using the wide range of devices that are now commonplace.
Tech Discovery Events – Your Journey to Digital Empowerment
Starting this September, we invite you to join one of our Tech Discovery Events, where you can explore and experience a range of everyday technologies in a friendly and supportive environment. Our Tech Discovery Events offer you the opportunity to:
Have a go on tablets, smart speakers, and electronic magnifiers: Test and interact with gadgets with help from our trained Tech Volunteers.
Try helpful apps: Discover a selection of apps designed to make the use of technology more accessible and apps that are helpful for everyday tasks when you are blind or visually impaired.
Get accessibility advice on your device: Receive guidance on how to make sure your existing devices are optimised for you. Find out about simple settings that will allow you to easily read or listen to your device.
Follow-up 1:1 support: We are committed to your success on your digital journey. Following the sessions, our trained volunteers will offer one-on-one support to address your specific questions and challenges.
Friends and Family Welcome: We understand the importance of a strong support network. Friends and family are warmly invited to join you at our Tech Discovery Events.
Accessible Locations for Everyone
We want to ensure that our events are accessible to as many individuals as possible, so our Tech Discovery Events will take place across the region. You will find events being held in central Bristol and Bath, as well as at our sight loss advice hubs across Bristol, Banes, and South Gloucestershire. Follow this link to find where the events are taking place:
Link to all Tech Discovery Events
"We are delighted to launch our Digital Inclusion service and offer Tech Discovery Events to the visually impaired community," said Glenda Prall, Head of Services at Sight Support West of England. "We believe that access to technology is a fundamental right, and through these events, we hope to bridge the digital divide and empower individuals with sight loss to embrace technology confidently."
Empowering Learning through Training Courses
From October, we will be offering a range of training courses to further expand your knowledge and confidence with technology. These courses include:
Get Online, Stay Connected! – Learn essential online skills to connect with family, friends and the wider community and access vital services that are online. This course will also offer a starting point for those who are unsure where to begin with getting online.
Be Safe, Not Scammed. – Gain the know-how to navigate the digital landscape securely and protect yourself from online threats.
Video Chat and Messaging. – Have you wondered how to take part in a video call?  Or message your grandchildren?  Or receive a photo? Master the art of communicating through video chat and messaging applications, so you can stay in touch with the people who are important to you.
Tablets Are Not Just for Swallowing. – Get started using a tablet computer (iPad or Android version).  Learn to use the touch screen, and key skills such as email, searching for information, shopping, and making video calls.
Your Digital Journey
At Sight Support West of England, we are dedicated to empowering individuals with sight loss to lead fulfilling and independent lives. Our Digital Inclusion service, including these new Tech Discovery Events and our training courses, are created with your needs in mind.  We look forward to embarking on this exciting journey with you!
If you require any further information please contact Sam Edwards, Digital Inclusion Project Coordinator on: sam.edwards@sightsupportwest.org.uk  or  0117 3224885
This work is funded by St Monica Trust Digital Inclusion Fund.  The aim of the Digital Inclusion Fund is to support organisations to consider new ways of engaging and supporting those individuals who are digitally excluded.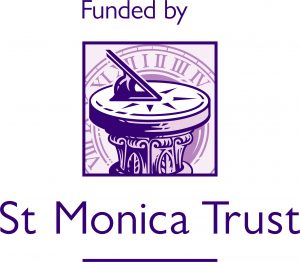 More news articles